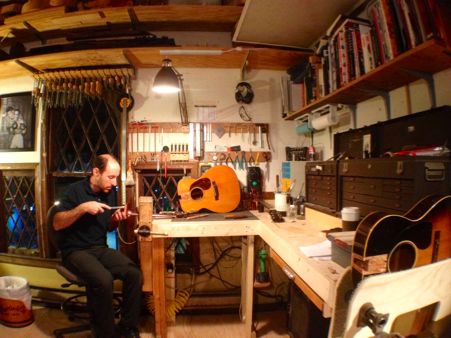 NOTICE: January 10th, 2019
Ann Arbor Guitar will not be accepting ANY new work except
set-ups until further notice that we will post here.
Our five star service remains so very popular that
we have yet another back log to clear. It's very important
to us to keep prior promises to our very valued clients
while all the while continuing to provide the highest
quality repair work available anywhere.
Thanks for your understanding and patronage.

Stop struggling! Get your guitar professionally set-up.
Many new guitars and older guitars have never
been properly set-up.

Same Day set-up service available
Monday, Wednesday and Friday

175 Five Star FaceBook Reviews
and recommendations
62 Five Star Google Reviews

Ann Arbor Guitars featured on MLIVE
Ann Arbor Guitars interviews live on 107.1


Ann Arbor Guitars provides world-class repair services for electric and acoustic guitars, mandolins and banjos. We use time honored materials and methods as well as the latest in technology to ensure that your prized instruments are repaired correctly and play and sound great.

Highest Quality Work: Find out why many professional musicians trust Ann Arbor Guitars with their instruments. See our "reviews" pages here to learn what our clients have to say.

Same Day Service: As unheard of as same day service is in the trade Ann Arbor Guitars employs 21st century work-flow methodologies that enable us to complete many jobs such as set-ups in the very same day. There is no extra charge for this service. For details please click on our what to expect page. We also offer special consideration for folks traveling for our services. For simple set-ups arrangements can be made for your instrument to be repaired while you enjoy the amenities that Ann Arbor is famous for.

Service for all brands: We service all brands of electric and acoustic guitars, mandolins and banjos as well as high-end Luthier-built instruments.

Warranty Repairs: Ann Arbor Guitars has earned the coveted CF Martin authorized warranty repair center certification.

100% satisfaction guarantee*: Another first for Ann Arbor Guitars we guarantee our work and if you are not completely satisfied we will refund your money!


302 E. Liberty Street
corner of 5th and Liberty
third floor
Ann Arbor, Michigan 48104

Hours
Monday - Thursday 10:00 to 4:00
Friday 9:00 to 4:00
CLOSED weekends

734 332-6142
a2guitarsllc@gmail.com


Conveniently and centrally located in the heart of Ann Arbor at 302 E. Liberty Street, third floor with abundant parking in the underground Library Lane parking structure located behind our building.



view our Facebook page


* satisfaction guarantee does not apply to classes or major repairs