Ann Arbor Guitars Products Page


Master Luthier David Collins is well known in the Lutherie industry for designing innovative, best-in-class tools and jigs for professional Luthiers. Stay tuned to this page for future products and updates on availability, price, etc.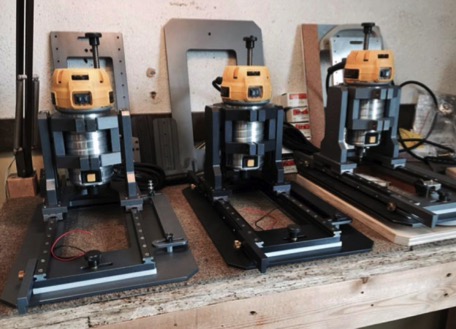 Collins Saddle Mill


The Collins Saddle Mill (CSM) was under development for over ten years and in early 2015 we shipped the very first production unit to a Luthier in Tennessee. Since then another CSM was shipped to a Luthier in the Netherlands and more recently world famous Elderly Instruments also purchased a Collins Saddle Mill.

Purpose: As the name implies the CSM is designed to cut the most precise saddle slots possible with tolerances possible of less than .001". In addition there are other uses for the mill as well that are listed below.

Description: The CSM is designed and built for a lifetime of trouble free use and the very best components were carefully selected for quality, durability, longevity, and reliability. Built like a tank the CSM is vacuum clamped and laser guided and produces the cleanest saddle slots possible.

We have used the pre-production prototypes here at Ann Arbor Guitars in our own work and earlier prototypes were also used by Collins Lutherie in the past.

The mill is a precision instrument but robustly built and assembled with a high degree of precision to ensure a lifetime of use.


- mills the tightest tolerance saddle slots available

- open or closed ended saddle slots

- flatten an existing saddle slot for better UST balance

- expand or correct existing saddle slots

- mill out a stubborn glued-in saddle

- mill a uniform saddle slot filling with a matching patch and recutting a new saddle slot to correct saddles in the wrong location

- produce saddle slots that perfectly fit commercially available saddles

- may be "jigged" to cut angled saddle slots

- cut multiple saddle slots for instruments so equipped